Apex, Holly Springs, Fuquay-Varina, Cary, Pittsboro, New Hill.
Look no further for in-ground pool service.
[The tech] actually spent time talking to me, learning about my pool and explained how to improve its performance and other tips.  It was very clear he cared and wanted to help. This is RARE in this business in my experience. — TH
Finding a good pool service company for your in-ground pool can be challenging at times. It's like finding the "right" mechanic, the perfect stylist, that trusted doctor or your go-to tech guy, but for your pool. You may have to go through a couple of pool and spa companies to find that right person, but when you do, you gotta hold onto him! We want to be that "right" guy for you–we'll take care of your pool and its equipment; we'll help it look nice and pretty, so you can relax.
Our pool service includes: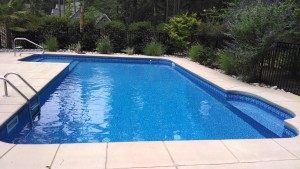 Pool openings, pool closings, winterizing
Equipment repair / replacement
Salt system installation / repair
Routine cleaning service (weekly, biweekly or monthly)
Inspections
Liner replacements
If you're a new pool owner, give us a call. We can schedule a tutorial to help you get to know your system and help you treat it right for years of enjoyment! And if you decide you'd rather have us do the regular pool service, we'll take care of it, so you can just dive in whenever you choose.
Contact us today and let us do the work for you. Call us at 919-367-6360.